The Mine by John A. Heldt Book Review
The following review is entirely my opinion. I encourage you to comment but please be respectful. If you don't agree with my opinion that's completely ok. I am just sharing my opinion and perspective of this novel.
I received this ebook from author in exchange for a fair and honest review.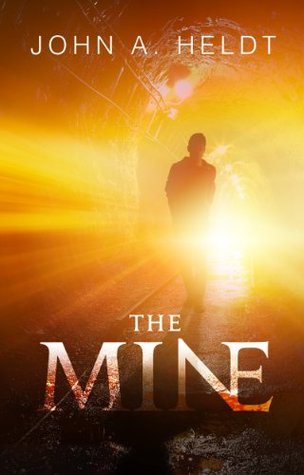 Series: Northwest Passage No. 1
Pages: 286
Sold by: Amazon Digital Services
Genres: Romance-Time Travel, Historical Fiction, Adventure
Summary:
In May 2000, Joel Smith is a cocky, adventurous young man who sees the world as his playground. But when the college senior, days from graduation, enters an abandoned Montana mine, he discovers the price of reckless curiosity. He emerges in May 1941 with a cell phone he can't use, money he can't spend, and little but his wits to guide his way. Stuck in the age of swing dancing and a peacetime draft, Joel begins a new life as the nation drifts toward war. With the help of his 21-year-old trailblazing grandmother and her friends, he finds his place in a world he knew only from movies and books. But when an opportunity comes to return to the present, Joel must decide whether to leave his new love in the past or choose a course that will alter their lives forever. THE MINE follows a humbled man through a critical time in history as he adjusts to new surroundings and wrestles with the knowledge of things to come.
**Spoilers Included **
I received this from the author in an exchange for an honest review.
My Review:
Appearance:
The book cover is very appealing to my eyes and cohesive to the story.
Writing: It is very descriptive and paints a vivid picture in my mind. Also, I like that the story flows smoothly into the meat of the matter and it doesn't drag us through any unnecessary stuff.
The description of this book does a good job of telling you what the book is about.
Definitely has a genuine sense of humor too.
I was just thinking......
Why in the world is the main character thinking of the most bizarre things while he enters the mine?
Added to that when he does realize he's in let's say **A DIFFERENT TIME PERIOD** to me he has the most normal reaction ever. Aside from him panicking an what not the character manages not to pass out, which in my opinion is the most normal and common thing to do. Just saying.

For me personally, it was very long read. I

t definitely did not disappoint. Although a little slow in the beginning, it does not take long to completely pull you in.
What made this book so captivating was watching a modern-day playboy find ways to fit in with his grandmother's generation. Joel's provocative love story with Grace was very touching. I liked that it wasn't cheesy but believable, and the sacrifices they made for each other were bold.



Overall,

I really don't have any complaints about this book at all. I was also curious like my fellow reviews, as to how a male will go about writing a romance novel.
The concept was great, and I loved the setting and the characters.
The people in this book were believable and very likable, and not just the main characters. It was easy to laugh and cry along with them, as well as feel their anger, sadness, curiosity, happiness and love.
I can't believe that it took me this long to actually read this book. Thank you to John for sending me this book. I loved it.
This book is a perfect example of why we should support our independently published authors. Cause everyone has a story to tell, whether it be fiction or non-fiction.
My rating:
About the author:
John A. Heldt is the author of the critically acclaimed Northwest Passage and American Journey series. The former reference librarian and award-winning sportswriter has loved getting subjects and verbs to agree since writing book reports on baseball heroes in grade school. A graduate of the University of Oregon and the University of Iowa, Heldt is an avid fisherman, sports fan, home brewer, and reader of thrillers and historical fiction. When not sending contemporary characters to the not-so-distant past, he weighs in on literature and life at johnheldt.blogspot.com.